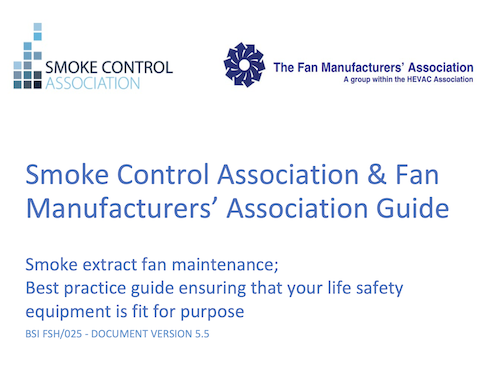 A new guidance document – 'Smoke extract fan maintenance; Best practice guide ensuring that your life safety equipment is fit for purpose' – has now been published by the Smoke Control Association (SCA) and The Fan Manufacturers' Association (FMA).
The key objective of the guide is to raise awareness of the need to ensure that any powered smoke extract fans which are selected, manufactured and installed in accordance with EN 12101-3:2015 must then be correctly maintained to ensure that they continue to offer building occupants the highest degree of smoke protection.
The document also provides guidance on deciding if the main smoke extract or pressurisation fans should be replaced with new equipment which has been designed, tested, certified and manufactured to the very latest standard.
Simon Plummer, an active member of the SCA with over 30 years' experience in the fan industry, led the BSI smoke fans group tasked with producing the best practice guide. He comments: "This new document will be an important resource for anyone involved in the maintenance of smoke extract fans, ensuring that critical life safety equipment is fit for purpose. I would like to thank all the manufacturers, installers, test establishments and motor manufacturers who came together to produce this key guidance document – a much needed source of information that promotes best practice and helps raise standards across the industry."
The guide is available as a free download at www.smokecontrol.org.uk/resources and www.feta.co.uk/associations/hevac/specialist-groups/fma-publications.